Stuffware StuffTV
General Information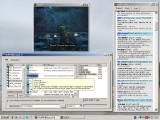 StuffTV is a Windows application for viewing Digital Television. It currently supports the Hauppauge WinTV Nova-T and Nova-S PCI cards, also known as Techno Trend's TT-PCline budget DVB-T and DVB-S cards. There may be support for other DVB devices (DVB-C and USB) at a later date.
The software requires that the Techno Trend drivers for the card are installed. These are available from the Techno Trend website. It's unknown as to whether the software will work with just the Hauppauge software/drivers installed - this hasn't yet been tested. It is strongly advised that you do not attempt uninstalling / reinstalling drivers unless you are very confident you know what you're doing. The author cannot assume any responsibility for damaged installations due to this sort of behaviour!
The current version of the software handles video (thanks to libmpeg2) and audio (thanks to libmad). It's therefore a basic minimally functional TV viewing application. There are still a few "basic" issues to resolve, like aspect ratios and synchronisation. So far it has only been tested in the UK, with the Freeview platform for DVB-T and the Sky Digital package for DVB-S. I'd be interested to hear if anyone manages to get it working elsewhere in the world.
Some other special features include:
DVB subtitles.
Audio Description - listen to the narrative tracks for the visually impaired included with some programmes.
Whole transport stream recording / playback.
Simple EPG displaying service information and now/next for all available channels.
Important Disclaimer:

Whilst the author has tried very hard to ensure that the program is safe and bug free, he cannot guarantee that it won't malfunction. The author assumes absolutely no responsibility for any damage caused through use of this program, which is entirely at your own risk.

Downloads:
Built 4th September 2004. Very much a beta release, and some of the features (particularly subtitling) do not yet work in this newer version. This is a test for an alternative way to handle video/audio, using DirectShow rather than libmpeg2/libmad.
Built 26th July 2004. Added DVB-S support, a rudimentary EPG and transport stream file playback feature.
Built 30th April 2004. Added EIT "now showing" display, and transport stream recording feature. Also now supports DVB subtitles!
Built 6th January 2004. First public release.
Any comments, suggestions, bug reports, please email: John Hawkins [

]
Back to stuffware.co.uk.